Time for the next installment in the DogExplorer.com series of World's Cutest Puppy pictures. Meet Dezi, a just weeks old Rottweiler puppy in a nearly zen-like moment. We've watch her grow and play for months now and for any puppy, let alone a large breed like a Rottweiler, we must say she is pretty mellow all the time with a very sweet disposition.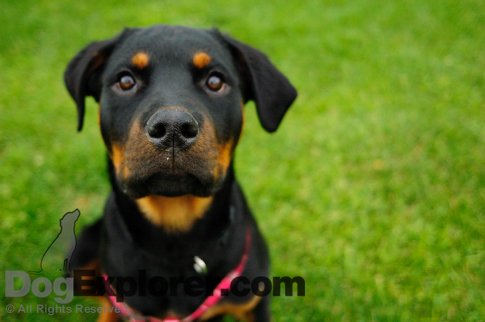 Just click on the picture to see other cute puppies but understand we are just starting our series. You are also welcome to add your own picture to the gallery but remember puppies only, and all submissions are subject to editor approval.


The only thing better than a cute puppy picture are dogs and puppies themselves. So to celebrate our dog buddies, we are running a regular feature where we publish a single dog picture either shot by one of our readers or produced by DogExplorer.com
There are no prizes and it is not a contest. But if you have a picture you think worthy of our front page, please upload it to the correct album in our dog picture gallery and then send us a note through our contact page. These pictures can be anything dog related, from portraits at rest to action shots and funny moments, and of course, the World's Cutest Puppy.
{mosloadposition endslug}
World's Cutest Puppy is a trademark of DogExplorer.com