Say hello to visiting Oregon Australian Shepherd Rustie as she runs across the lush grass at Ventura's Arroyo Verde Dog Park. That's no typo, that's how her people spell her name.
She is a lovely red merle Aussie hailing from Talent, Oregon (near Medford and Ashland, Oregon).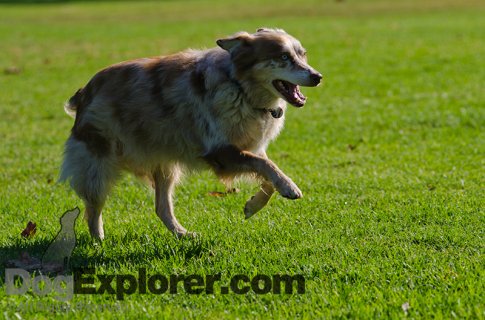 DogExplorer photo by PupandHorse.com
Rescued from an animal shelter at the age of 15 months, Rustie is now 9 but we should not really discuss a lady's age. Funny Rustie Fact: When you scold her she curls her lip into a smile.
She is an excellent traveling companion and has logged many thousands of miles accompanying her people on countless road trips. In other words, Rustie is an outstanding example of a Dog Explorer.

The Australian Shepherd Breed
As the name Australian Shepherd may imply, the breed is a member of the American Kennel Club (AKC) Herding Group. It may come as a surprise to learn that the AKC only recognized the Australian Shepherd breed in 1991.
Contrary to the name, however, the Australian Shepherd dog did not originate in Australia, says the AKC. "The Aussie probably originated in the Basque region of the Pyrenees Mountains, but it was dubbed the Australian Shepherd because of its association with Basque shepherds who arrived in the United States from Australia in the 1800's," explains the American Kennel Club.
Popular as an outstanding agility dog and as a stalwart companion on the working ranch, the Aussie is characterized when herding by its loose-to-medium eye. While DogExplorer has not met any, the AKC says the Australian Shepherd also finds itself serving as guide dog for the blind, hearing dog for the deaf, drug detectors and search and rescue dogs. Based on the people-focused, brilliant and lovely Aussie's we've met, that resume sounds about right to us.
Be sure to click the picture of the Australian Shepherd Dog above to see the large size image and the rest of our Australian Shepherd Dog Pictures. We could love to see your pictures uploaded to that album too. Oh, please, please, please click the "Like" button below to "Like" this page on Facebook. It is very much appreciated.
The only thing better than dog pictures and cute photographs of puppies are dogs and puppies themselves. So to celebrate our dog buddies, we are running a regular feature where we publish a single dog picture either shot by one of our readers or produced by DogExplorer.com
There are no prizes and it is not a contest. But if you have a picture you think worthy of our front page, please upload it to the correct album in our dog picture gallery and then send us a note through our contact page. These pictures can be anything dog related, from portraits at rest to action shots and funny moments.