A military working dog picture of what appears to be the German Shepherd dog breed. The working dog is assigned to the U.S. Soldiers of Alpha Troop, 1st Squadron, 172nd Cavalry Regiment, 86th Infantry Brigade Combat Team.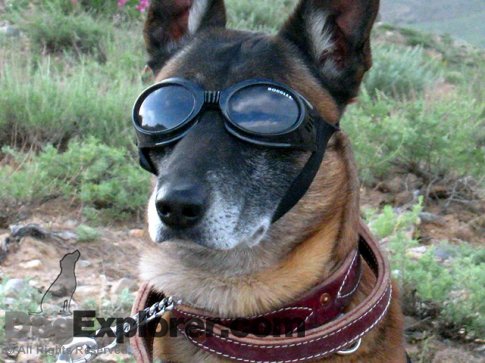 U.S. Army photo by Sgt. Jason Brace
This military dog is sporting a pair Doggles, his very own equipment to protect his eyes, because a CH-47 Chinook helicopter will take off, kicking up dust and debris. The military working dog and the Soldiers of Alpha Troop were conducting an air assault operation, in Parwan province, Afghanistan, May 11, 2010.
Be sure to click the picture of the Military Working Dog above to see the large size image and the rest of our Military Working Dog Pictures. We could love to see your pictures uploaded to that album too. Oh, please, please, please click the "Like" button below to "Like" this page on Facebook. It is very much appreciated.
The only thing better than dog pictures and cute photographs of puppies are dogs and puppies themselves. So to celebrate our dog buddies, we are running a regular feature where we publish a single dog picture either shot by one of our readers or produced by DogExplorer.com
There are no prizes and it is not a contest. But if you have a picture you think worthy of our front page, please upload it to the correct album in our dog picture gallery and then send us a note through our contact page. These pictures can be anything dog related, from portraits at rest to action shots and funny moments.
{mosloadposition endslug}