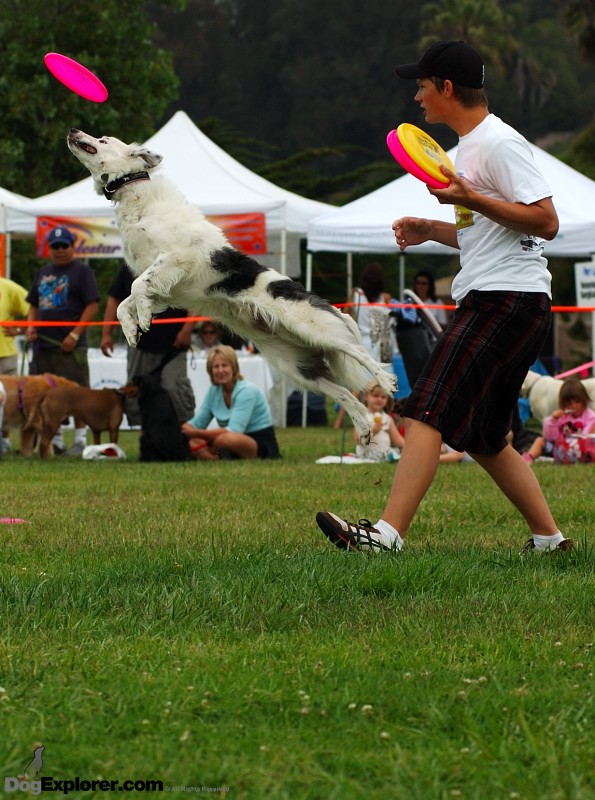 Photos by PupandHorse.com
On July 20, 2008, DogExplorer.com attended the annual Pooch Parade held in Ventura, California, by CARL, the Canine Adoption & Rescue League.
Under cool, mostly overcast skies and gentle breezes, hundreds of dogs and their people helped raise money to support CARL's rescue efforts. The foundation of the event is the dog walk where single participants and "dog packs" of supporters walk over a three mile course in the canine version of walking for a cause. Only this time, with poop bags.
There were also contests (with prizes) for best costume, most obedient, best trick, best tail wag, best kisser, largest and smallest dogs.
Other highlights included flying disc dog, agility dog, flyball and police dog demonstrations.
Additional support for CARL came from some 40 vendors including Natura Pet Products (Innova, EVO, Karma Organics), Flying High Pet Resort, newcomer PuppyRazzi (Pet Portraits) and Pet-Pac (pet evacuation & travel kit), along with many others.
We hope you enjoy this photo essay from the 2008 Pooch Parade as much as we enjoy bringing it to you. It features 9 selections from the 20 dog pictures we uploaded to our dog picture gallery. Be sure to view the best here and then stop by the dog picture gallery for even more (just click on any of the pictures).
And if you can, don't forget to do your part to support CARL. Every little bit helps and they do a lot of good work.

If you have a picture you think worthy of our front page, please upload it to the correct album in our dog picture gallery and then send us a note through our contact page. These pictures can be anything dog related, from portraits at rest to action shots and funny moments.
It is also very important for you to please fill out our readership survey if you have not already done so. Please take a moment right now. Click here to fill out the survey.
Thank you!
And now, the rest of the photo essay from the 2008 Pooch Parade: