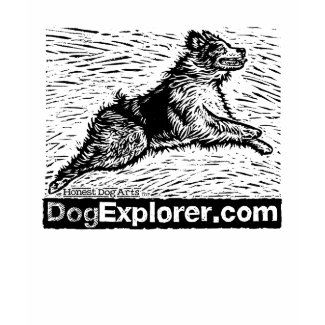 Visitors to the 2011 Ventura Pooch Parade are in for a treat when they stop by DogExplorer.com's booth to say woof. Allison White, from Honest Dog Arts, is the creative mind behind our brand new Special Edition line of custom shirts and other products. Ms. White is a favorite among the dog community far and wide, especially those in the herding world.

As another way for us to help the wonderful local dog rescue producing the Pooch Parade, DogExplorer will donate 10% of all sales of any product from our brand new online store made today, July 24, 2011, to Ventura's Canine Adoption and Rescue League (CARL). So order early and often! Just click on the picture to shop for the amazing Special Edition designs from Honest Dog Arts or our pro-dog adoption designs for custom shirts, mugs and more.
Here is a Google map showing the Pooch Parade location (a new window will open): San Buenaventura State Beach Park
For more information please visit the official Pooch Parade website (a new window will open): Pooch Parade
To learn more about Ventura County dog rescue CARL please visit their website (a new window will open): CARL
Remember to look for DogExplorer's Pooch Parade booth to say hi to Allison and, of course, the DogExplorer pack!
{mosloadposition endslug}