The Ventura shoreline will once again host the popular dog rescue benefit known as the Pooch Parade. Taking place July 15, 2012, this year's event marks the fifteenth anniversary of the fundraiser for local non-profit Canine Adoption & Rescue League (CARL).
Held at San Buenaventura State Beach Park, the hours are 9:00 am through 4:00 pm with activities scheduled throughout the day. This year's theme is "Providing a Second Chance at Life."
Here is a promo video we produced about the Pooch Parade in 2011 – so please ignore the dates but do attend the 2012 event on 15 July:
Billed as a "Fundraising Dog Walk & Pet Expo," the Pooch Parade begins each year with a three mile stroll for people and pooches along the picturesque Ventura coastline by participants who, in the same style as other charitable "walks," have gathered pledges for donations.

That's followed by a silent auction, friendly competitions and performances of various dog specialties and sports. Over the years there have been dog costume contests as well as Flyball, Dog Agility and Flying Disc demonstrations to wow the crowd.
Yes, there will be food vendors there too! Paid parking is available in the lot or some free parking can be found on adjacent streets.
CARL suggests the following rules be observed if you are attending:
All dogs must be on a leash at all times
No retractable leashes are allowed
No dogs are allowed on the State Beach
No alcohol please
And of course, be a responsible pet parent, please pick up after your dog.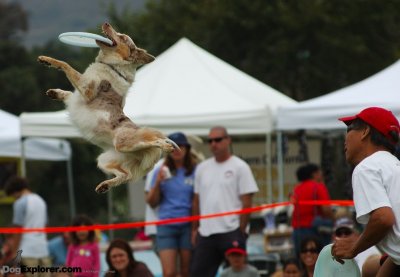 Schedule:
Pooch Parade (dog walk) Registration: 8:30 am – 10:00 am
Pooch Parade (dog walk) Warm-up: 9:30 am
Pooch Parade (dog walk) Walk: 10:00 am
---
Other events:
Pet Expo: 9:00 am – 4:00 pm
Silent Auction: 10:00 am – 2:00 pm
Awards, Contests & Demos: 11:30 am – 3:30 pm
Here is a Google map showing the location (a new window will open): San Buenaventura State Beach Park
For more information please visit the official website (a new window will open): Pooch Parade
To learn more about CARL please visit their website (a new window will open): CARL
Look for DogExplorer there as we are attending too. Of course, we are looking forward to meeting the great folks from "our" Ventura County pack so be sure to say "hi" if you see someone with DogExplorer on a shirt.